Adding Social Media Accounts for Social Campaign
In the survey, shows that in a month there are over two billion active users on Facebook, one billion on Instagram, and millions on Twitter worldwide. So for the networking and for the business purposes, seller or buyer find the consumers on social media for a multiple of reasons — and almost all the marketers know it. That it will improve brand awareness, it will directly connect with the audience and it will increase website traffic to drive sales. Social media campaigns have become a crucial marketing technique for businesses everywhere just because social media advertising reaches to the people at very low cost and in an effective way. nowadays it is very tough to imagine business without advertising on social media.
Why it is necessary to Set Social Media Marketing Campaign in Aritic.
To Improve Brand Awareness
To Connect With Your Audience
To Increase Website Traffic
To Drive Sale

s
Steps for Adding Social Media Accounts for Social Campaigns in Aritic.
Social account can be created by directly going into the social campaigns sections and then by clicking on the user icon. After clicking on the user icon there is a dialogue box that appears where customers can add a new account or create a new group. ( This is for the new model or the upgraded version of the application).
             Dashboard>>Campaigns>>Social Campaigns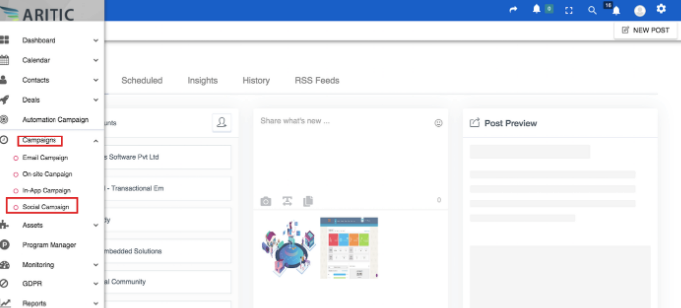 2. Click on social campaigns, and navigate to the profile addition and creation page, here you can select the header and images of the contents.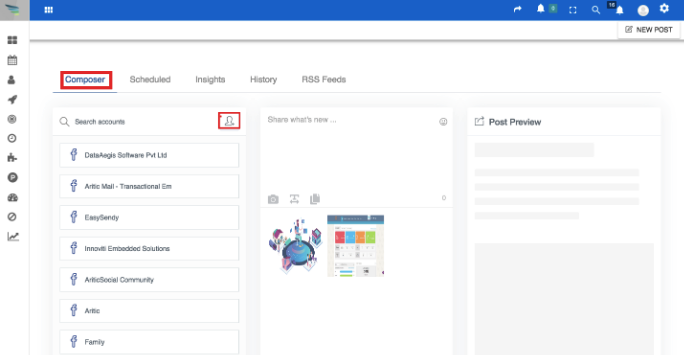 Click on the user button to bring up the menu to add "New Contacts"
---
Still Not an User of Aritic PinPoint Automation?
[su_button url="https://app.aritic.com/customer/guest/register?utm_source=aritic_docs&utm_medium=docs_end&utm_campaign=docs_contact" target="blank" size="7" center="yes"]Signup a Free Aritic Account[/su_button]
---